EMSEZ planning briefing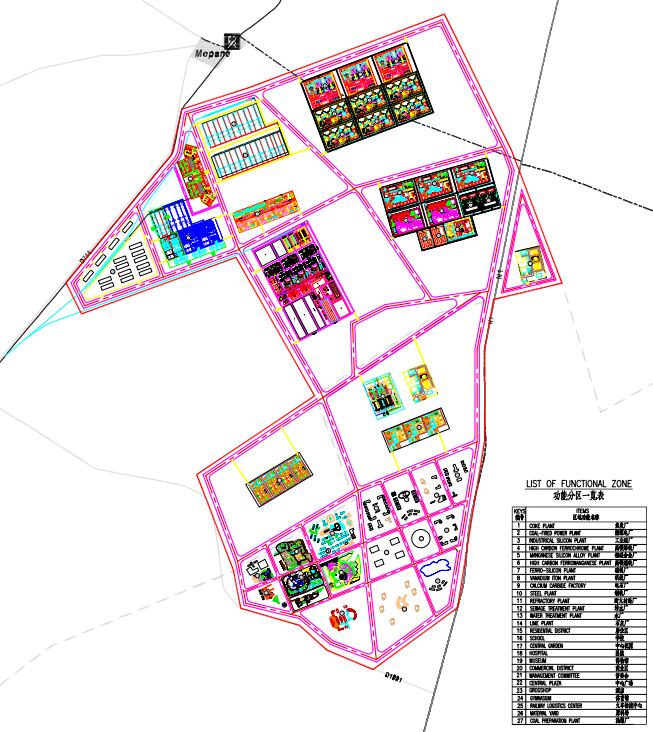 EMSEZ Master Plan.pdf
South African Energy Metallurgical Special Economic Zone (hereinafter referred to as EMSEZ or SEZ) is a state-
level energy metallurgical special economic zone, which was established in accordance with the South Africa's Special
Economic Zone Acts and approved by the Government of South Africa. It enjoys the tax benefits provided to South
Africa special economic zones as well as all the preferential treatments in polices that the Government of South Africa
sets up to encourage foreign investment. The SEZ Operator Permit was issued by the Government of South Africa to the
South African Energy Metallurgy Base (Pty) Ltd., for development, operation and management of the SEZ.

The SEZ is located in Musina-Makhado, Limpopo province, South Africa, with an area of 60 square kilometers, adjacent
to Zimbabwe, Mozambique and Botswana. Around the SEZ there are open pit coking-coal mines, with a deposit of more
than 10 billion tons. South Africa has more than 83% of the world's chrome resource and more than 81% of the world's
manganese resource. There are also other abundant mine resources used as raw materials for making stainless steel, such as iron ore, silicon ore, nickel ore and limestone, etc. Through the SEZ run the national railway, highway as well as power supply grid.

The SEZ is 500 kilometers away from Port of Maputo,Mozambique.Limpopo river is 30 kilometer away from the SEZ,
which is the important water source for the SEZ.

The following items shall be constructed under the SEZ Project: coal washery of 12,000,000t/a; Coal-fired Power Plant
of 3,000 MW; coking plant of 3,000,000t/a; stainless steel plant of 3,000,000t/a; high-carbon ferrochrome plant of
3,000,000t/a; silicomanganese plant of 500,000t/a and metallurgical lime plant of 1,000,000t/a,ferromanganese plant of
1,000,000t/a.To be constructed in the SEZ are also the supporting government administrative service center, living zone service center (residence, apartment, hotel, shopping mall, hospital and school, etc.) as well as comprehensive logistics center of highway, railway and seaway transportation. A Mine Resources Supply Center will be built in the SEZ so as to supply mine resource such as Ferro-Chrome Manganese Alloy and stainless steel furnace charges for the plants under the SEZ Project.

The advantage of energy and metallurgy integration of the involved items covered by SEZ Project is as follows: coking coal mine → coal washery → coking plant → power plant → ferroalloy plant → iron making plant → steel making plant, which form a connected sequence of energy and metallurgy production process, with BF hot metal and ferroalloy melt to be hot delivered to the steel making, thus increasing the melting recovery rate as well as reducing the energy consumption in metallurgy process. The advantage of such energy and metallurgy integration over the entire process is unique and given by nature.

The management committee of EMSEZ will provide the project investors with guaranteed and competitive resource
supply and supporting services as well.